RETHINK RECESS: An Artful Night of Cocktails
Our 2nd Annual Museum benefit, RETHINK RECESS, was a great success. More than 200 guests celebrated with us as we honored artist Abigail DeVille and singer-songwriter Meshell Ndegeocello and raised funds to support the Museum's mission-driven arts education initiatives and contemporary art exhibitions. The evening's success was due in large part to our sponsors, Board of Trustees and Benefit Committee and those who donated, attended the benefit, volunteered, and shared our commitment to cultural equity by providing access to the arts and education to young children and their families.

Experience the night in pictures below.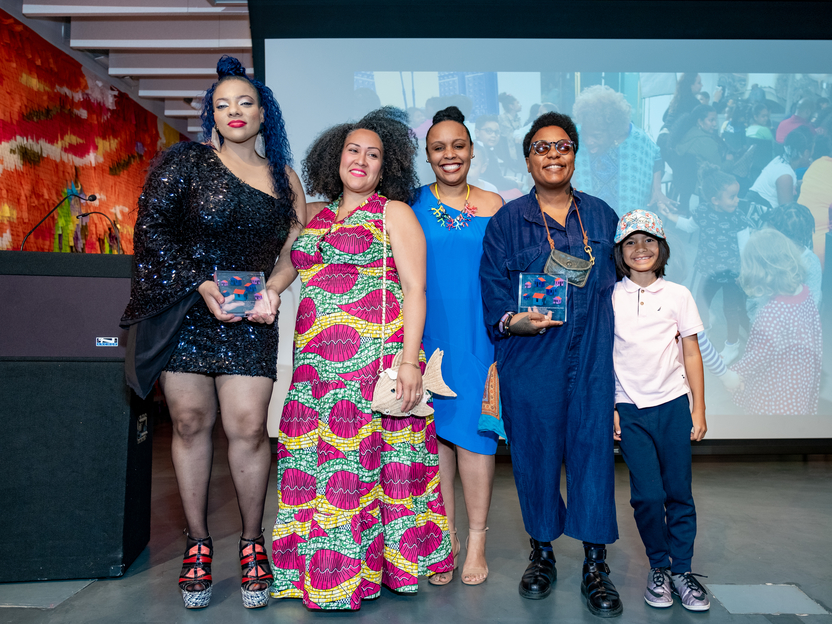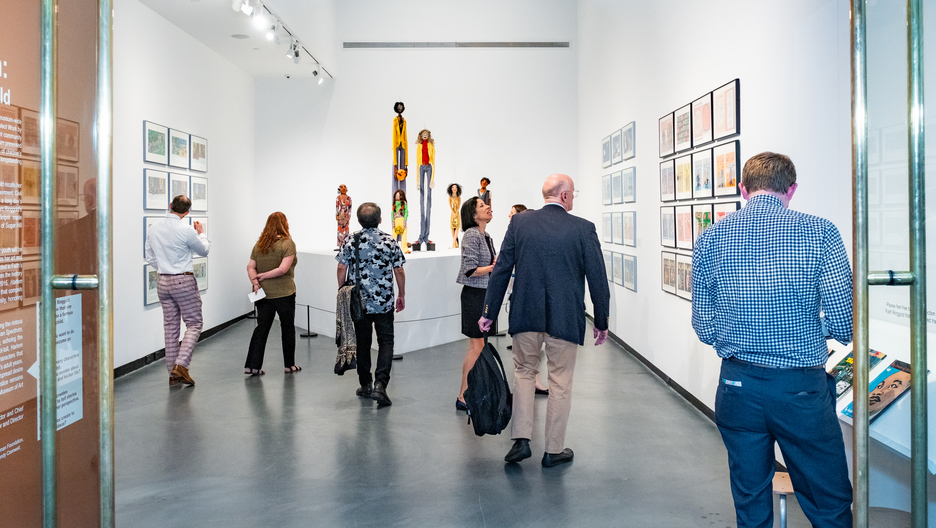 If you weren't able to join us for Rethink Recess but still wish to contribute to support the Museum you can do so by clicking the button below.
Evening Curated By
Artist
Abigail DeVille
Abigail DeVille is a site-specific artist and descendant of Harlemites. DeVille has exhibited internationally in such venues as the Whitney Museum and the 55th Venice Biennale. Her interdisciplinary practice has been recognized by the Joan Mitchell Foundation, Harvard University, and she is the recipient of an Obie Award for sets that debuted at La Mama Experimental Theatre.
Short Story Told By
Singer/Songwriter
Meshell Ndegeocello
Bassist, vocalist, and songwriter, Meshell Ndegeocello's music spans funk, soul, jazz, hip hop, reggae, and rock. The recipient of ten Grammy Award nominations Ndegeocello's long list of collaborators includes The Rolling Stones, Madonna, Prince, Ava DuVernay, and Jason Moran. Currently, Ndegeocello is developing a multi-disciplinary performance exploring the work of James Baldwin.
Soundscape By
Angel and Dren
Twin DJ/Producer duo, Angel + Dren are ones to watch in music and fashion. These New York natives graduated from Dartmouth College in 2013 and have been making waves with their effortless style and spot-on music selection since then. Creating signature mixes and remixes, A+D are known for their unique, upbeat and standout sets.
Special musical performance in the gallery by
Ma*JiD
Majid Khaliq, also known as Ma*JiD is a violinist whose music is an eclectic blend of styles and influences, from classical to jazz, and hip-hop. Ma*JiD will open the night on a rooftop installation featured in our latest exhibition The Oracle of Amplitude: Heather Hart
BENEFIT HOST COMMITTEE
Nevah Assang, Ellen Baxter, Kristen Chard, William Cordova, Alessandra DiGiusto, Euphrasia Dopf, Kimberly Drew, Femi Kusimo, Leslie Hewitt, Derek Fordjour, Thelma Golden, Deana Lawson, Miguel Luciano, Lestiel Kelly, Rick Lowe, Princess V. Lyles, Sheri Sandler, Betsy Senior, William Thompson, Mary Ann Villari and Corby Welch
MUSEUM BOARD OF TRUSTEES
Ellen Baxter (President), Neil Bhargava (Secretary and Treasurer), Nevah Assang, Kristen Chard, Marie Dutton Brown, Derek Fordjour, Femi Kusimo, Princess V. Lyles, Georgina Ngozi, Julissa Reynoso, Ramona Roopnarine, Sheri Sandler, Steve Seidel, Betsy Senior, Corby Welch
BENEFIT SPONSORS
For information on event sponsorship for our 2020 Benefit, please contact:
Alexis Markopoulos 212-335-0004, ext. 234
amarkopoulos@broadwayhousing.org